Award Winning Space & Services
Co-Managers, Allen W. Fleming and Ellen W. Foulke are a Full-time, on-site Team with a combined tenure of 45 years of on-site experience. Both came to the Lansdale Business Center after Allen graduated University of Pennsylvania, Wharton and Ellen Sarah Lawrence College, and earned their Certifications from Schlicher Kratz School of Real Estate together.
Coincidentally, prior to taking positions at the Lansdale Business Center, each was employed in Fine Dining Food & Beverage & Hotel Operations Management, albeit for separate popular and well known and respected establishments.
From 1998 Until 2018, they also oversaw together, all aspects of successfully maintaining maximum occupancy and physical plant operations for a 12 unit Residential Rental building in Ambler, while being consistently active locally
in the Lansdale Business Association, Chamber of Commerce for Greater Montgomery County, the Lansdale Economic Development Committee, the Lansdale Annual Christmas Tree Display and Mural Arts Programs and numerous other outreaches and initiatives via Manna on Main Street, particularly supporting awareness of Food Insecurity issues faced by animals, with their "Pets R People Too" fundraising efforts.
"All of our Customers come to the Lansdale Business Center intending to spend their time and efforts at the activity, process and passion they have identified by and for themselves, and we are no different!" says Ellen. We are perennially excited by who we will encounter next, on- site or off, and how we will help them individually, to realize their dreams for their business and their personal journeys."
The award winning combination of experienced and dedicated full time, on-site staff, coupled with a one of a kind facility, makes the Lansdale Business Center fundamental and essential to its Customers conducting business effectively and efficiently with enviable economy, and for many, a new found peace of mind.
---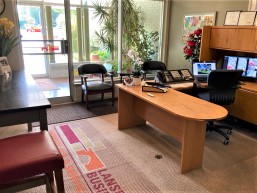 Front Desk Staff will sign for deliveries while Customers are out on job sites or appointments, and will have skids and/or parcels placed inside the Common Area, protected from the elements, or placed directly inside the Customer's space.
Customers are able to convey detailed instructions with the Front Desk as to how they want each delivery handled and Bills of Lading will be placed in the Customers' Personal Business Mailboxes at the Front Desk. with an email and/or text sent to the Customer, confirming its receipt.
Most Customers have their own accounts with USPS, UPS, FedEx, Amazon, and other carriers and couriers, however, there are also UPS, FedEx and USPS drop boxes just outside the door to the Front Desk /Main Reception Area for your convenience. Carriers visit throughout the day from the various shipping providers and the Front Desk knows its drivers for the property by name, and they readily learn to recognize businesses new to the Lansdale Business Center Community.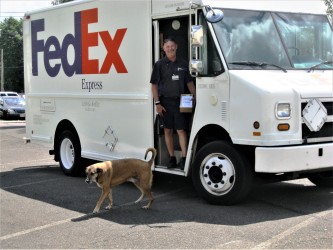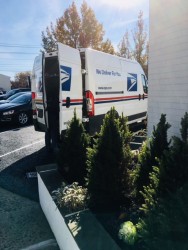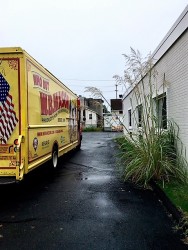 ---
The Lansdale Business Center Main Loading Dock Area supports two individual Customer spaces with dedicated overhead doors, as well as a "Common Dock Area", also with overhead, that leads to/services several other Shop, Kitchen and Flex spaces. In the Common Dock and Lower Dock Areas are restrooms as well as FREE Cardboard and Mixed Paper Recycling facilities.